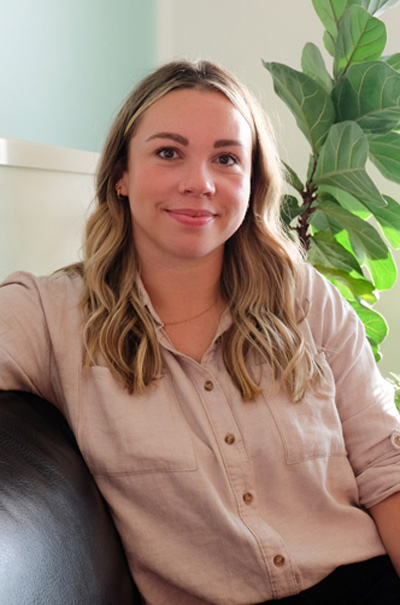 Hailey

Interior Designer
Born and raised in Edmonton, Hailey knew she wanted to be an interior designer since adolescence. Her gracious parents let her paint and redesign her bedroom many times over the years! Having other creatives and carpenters in her family furthered her interest in interior spaces. Following her passion, Hailey studied design in Vancouver and returned to Edmonton in 2015 to pursue her career.
In her free time, Hailey enjoys spending time with her husband, their sweet little girl and their overly energetic black lab. She loves to cook, try out different restaurants and breweries, camp in the summer and go on long walks with her family.
Do you have a funny story you'd like to share? 
A story that always makes me laugh is from when I was 4 years old. I used to like to take off my dad's glasses and wear them around the house for short periods of time. At the time we had a pet goldfish who, on that fateful day, jumped out of it's bowl and died on the floor. While walking around blurry-eyed in my dad's glasses, I picked up the goldfish and put it in my mouth thinking it was a carrot. Once in my mouth, I realized the texture wasn't right, took off the glasses and realized I was eating my dead goldfish. This story has followed me in my family for many years at this point…
What's the most unusual or exotic food you've ever tried, and did you like it?
I tried alligator in Australia! It was interesting – tough and chewy. Probably not something I'd try again!
Do you have any hidden talents or unusual skills that people might now know about?
A fun fact about me is that I can memorize a song after only a handful of listens! I have hundreds (maybe thousands?) of songs memorized.