In 2022, our team celebrated our 30th anniversary of building homes in the Edmonton area. We feel blessed to operate this business, helping Edmontonians build exceptional homes, while growing a strong team of experts in their field.
Our History
Habitat Studio was founded in 1992 by Bruce Watt and Vince Campbell. After completing two homes in our first year, we've grown consciously, steadily, and responsibly. When Peter Amerongen joined as a third partner in 1994, sustainability and energy efficiency became the hallmark of our homes. By our 20th anniversary we were completing between 15 and 18 homes annually. This controlled growth has allowed us to continue building high quality homes without compromising our values of design and construction excellence. Now, Habitat Studio has become a nationally recognized industry leader in energy efficiency and sustainability.
Over the years we've maintained the same owner/operator format and have added an exceptional group of designers, project managers, and construction staff. The early 90's brought the addition and wealth of experience of Norm Perrin and Trevor Hoover. More recently, Rick Young and Jason Hoover have joined the partnership.
As a team of 4 they have built a strong relationship of trust, ingenuity and respect not only for one another but instilled these morals into everyone they come in contact with.
Our Firm Now
Our team has been hand-selected through high recommendation and work ethic. We use the same diligence with choosing our employees as we use in building our homes. We all take great pride in the process of building the most important place on earth: home.
To encourage a high level of employee engagement and dedication we use an employee profit sharing program. The result is a front line commitment to quality and attention to detail in every project that we build.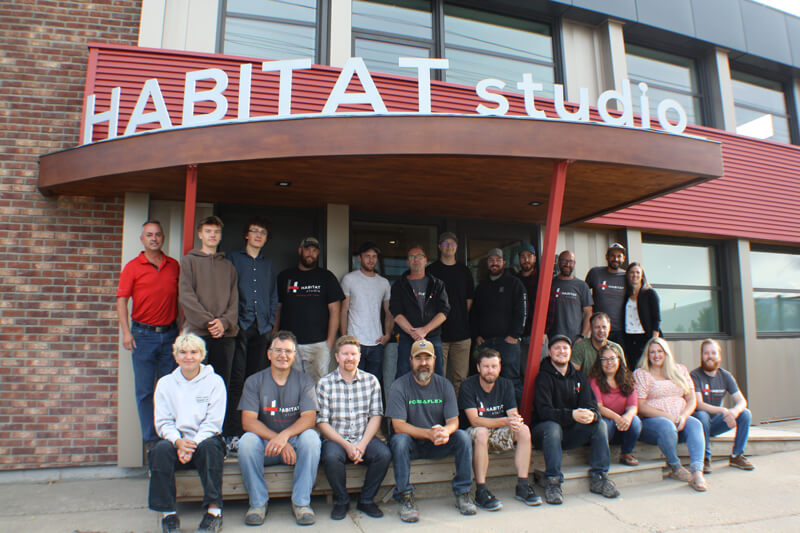 Our team of partners, architectural designers, interior designers, project managers, carpenters, solar experts and support staff work together to provide a one-stop solution for clients looking to build a home. We don't just build you a home, we assist you every step of the way so you end up with a fully finished space that you helped create.
We view your home as a reflection upon ourselves and our business. That means that our success depends on you loving your home—forever. That's why we pay close attention to the little things, the details that you see and the ones that you don't.
We consider where you'll store your road bike, how many steps you have to take to do laundry, and whether or not you can see the kids in the playroom while you're cooking dinner. It's our mission to build you a home that makes you feel completely at home.
When we work together to get the details right, you get a house that works—beautifully. You get the home you have always wanted, not a house your builder built for you.
Where we are going
Our long term focus has always been building homes that are energy efficient, beautiful, and less taxing on our environment. We are always monitoring the newest construction and sustainable technologies and wherever possible, we implement these advancements to make improvements in our homes and building processes. You can read more about our commitment to sustainable design here.